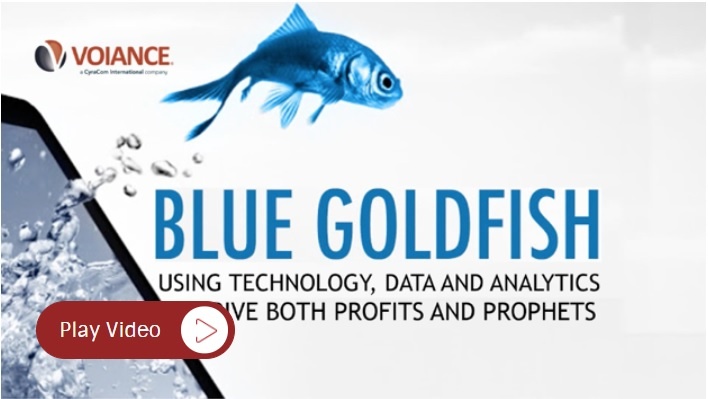 Author and Forbes contributor Stan Phelps recently partnered with Voiance to host The Blue Goldfish webinar. This is the second post in a two part series discussing lessons from that webinar.
No Such Thing as Meeting Customer Expectations
Customer expectations are binary. You either exceed them, or you fall short. Similarly, if you're trying to keep up with increasing consumer expectations, you're fighting an uphill battle.
Amazon, no longer a small online bookstore by any measure, knows this. They do not make it their objective to meet customer expectations. They aim to exceed expectations in such a way that customer expectations increase as a result. Scot Wingo, Co-Founder of ChannelAdvisor, calls this increasing customer expectation the "Amazon Effect."
The Amazon effect fueled a dramatic rise in customer expectations. Customers expect a personalized, quick, and consistent experience. A recent IBM Institute for Business Value report brings this fact into sharp focus:
76% expect organizations to understand their individual needs
81% of consumers demand improved response time
68% anticipate organizations will harmonize consumer experiences
To offset the Amazon Effect, you must get ahead of the expectations curve. You don't need to deliver Amazon-level service, but you must be aware of rising customer expectations. Predicting customer expectations helps you stay a step ahead of everyone else. Author Peter Shankman calls this "one level above crap," meaning you must be better than the status quo.
The Blue Goldfish
Consumer expectations have changed—we've forced them to change with each innovation being faster, smaller and more accessible than the last. The same expectations apply to your business.
Customers expect faster response times, shorter wait times, more value, and less cost all at once. Companies who figure out how to serve this modern consumer will thrive. Those companies that fail to serve the modern consumer will not last long.
A Blue Goldfish is when companies use technology, data and analytics to improve customer experience. Technology brought us these increasing expectations, and using technology can save our businesses from them.
Based on a study of over 250 companies, the book Blue Goldfish shows how companies can leverage the three R's to enhance customer experience:
Relationship
Personalization and Personal Data & Behavior Change
Responsiveness
Customer Service 3.0, Waiting and Real-Time Response
Readiness
Frictionless Commerce, Location Aware Convenience and Trust & Safety
To learn more about using technology and analytics to improve your customer experience, watch The Blue Goldfish webinar hosted by Voiance. In it, Stan makes the business case for leveraging analytics to make your customer experience a competitive differentiator.
Stan Phelps is an Experience Architect at 9 INCH. He writes about the heart of customer experience and employee engagement. He is the author of four books about customer experience and employee engagement called Purple Goldfish, Green Goldfish, Golden Goldfish and Blue Goldfish. They all focus on the little ways to drive differentiation, increase loyalty and promote positive word of mouth.