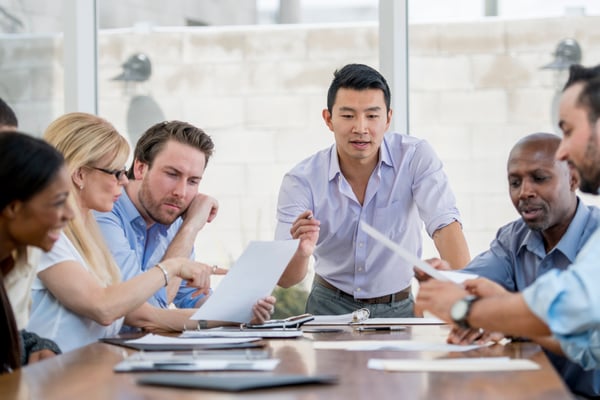 There are third-party expenses for running any business, such as telecom, electricity, and language services. But that doesn't mean that you should consider these vendors as just another expense: your language services provider should be working with you to achieve your organization's overall objectives, which include cutting operational costs and developing granular reporting.
Don't just hire any language services vendor. Hire a partner who can help you achieve these objectives, like Voiance.
What Voiance offers that other language services providers won't:
Straightforward Billing
Comprehensive Reporting at No Additional Cost
Improved Security and Privacy
Reduced Operating Costs
Straightforward Billing
Billing for language services shouldn't be complicated—Voiance only bills for the interpretation session.
Some of our competitors do make it complicated; adding charges such as startup fees, cancellation fees, and minimums. Some even bill you for speaking to the operator or customer service representative, or the seconds waiting for an interpreter to answer your call. If you haven't reviewed your current vendor's bill recently, we encourage you to check over it for any of these hidden fees.
Comprehensive Reporting at No Additional Cost
Unlike other companies, we don't charge you for access to your own call reports.
Instead, you'll have no-charge access to over a dozen different report formats, so you can pull call details and analyze all the data that you need: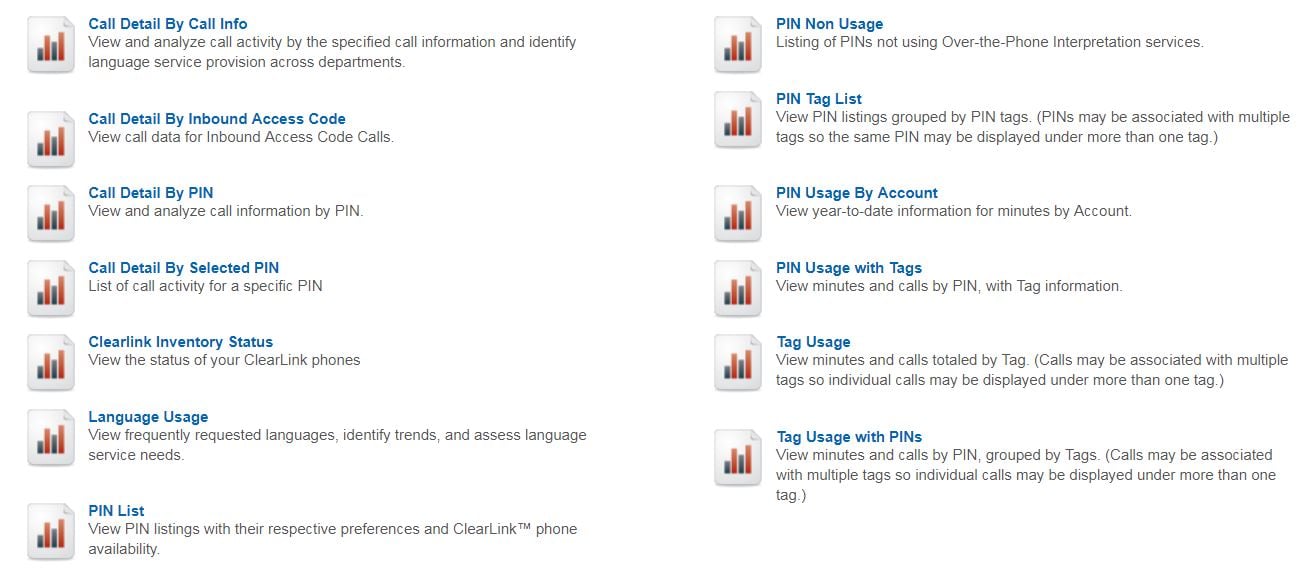 Improved Security and Privacy
Your vendor's security protocols are just as important as your institution's when it comes to preventing data breaches. You need to know you're calling into a secure infrastructure with processes in place to manage security, confidentiality, and rigorous consumer privacy laws and protocols.
Unlike competitors, all calls to Voiance are serviced in the United States, where we operate the most extensive network of large-scale interpreter contact centers. Our clients are able to visit and audit these locations, and all of our interpreters are US citizens or legal residents who are subject to US security and privacy laws.
Our secure contact centers are certified for PCI compliance and audited under the ISO 9001:2008 standard for Quality Management Systems. We also hold an ISO certification for Translation Services (17100:2015) and comply with ISO Guidelines for Community Interpreting (13611:2014).
Other benefits of our secure US-based contact center model include:
No recording of calls
24/7 recorded surveillance and mandatory visible ID badges for all staff and visitors
Access doors require keycard access
A clean-desk policy that is audited and enforced by management
Reduced Operating Costs
Other companies primarily use independent contractors and pay them per minute, which may increase your operating costs since there is no incentive for the interpreters to keep your calls short. Our employee interpreters are scheduled and paid per hour, and so are not incentivized to stay on one call as long as possible.
While other companies cannot lawfully train independent contractors, our employee interpreters complete 120 hours of interpreter training and continue with ongoing education for banking topics as long as we employ them. Our interpreters are trained to handle banking calls and so will have more competence to keep the calls moving along. Reduced average handle time will help lower your operating costs.
Want to learn more? Read our e-book, the Business Case for Language Services in Call Centers.