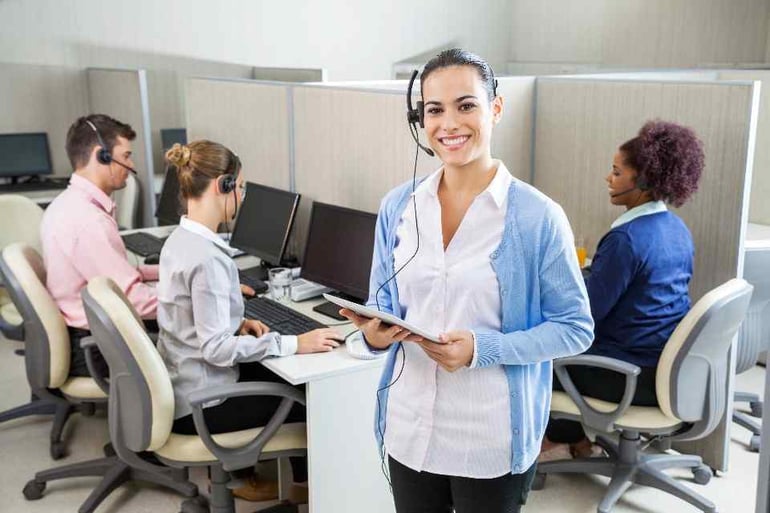 The contact center agent tried to suppress a laugh.
It was difficult. The agent strained to understand the customer's thick accent and broken English. The customer had just received a music box she had ordered. It sounded like the customer was asking for instructions.
Who needs instructions for a music box?!
The agent stifled a giggle and started explaining how music boxes work. This just seemed to make the customer angrier. She began yelling in what sounded like Russian.
The agent remembered she had a co-worker who spoke Russian. She transferred the call and the problem was quickly diagnosed. The customer knew how to operate a music box after all. She was calling because it wasn't shipped with a key to wind it.
Language barriers like this one can cause harmful misunderstandings that can negatively impact on your business and contact center efficiency.
The Impact of Misunderstandings
Language barriers make it hard for agents to understand customers' needs. These misunderstandings may lead to several problems:
Customer satisfaction decreases due to frustrating communication gaps.
Average handle time increases as agents struggle through the call.
Call quality decreases as misunderstandings lead to critical mistakes.
All of these happened on the call with the customer who needed a key for her music box. What should have been an easy fix turned into a long call with an angry customer.
The customer felt insulted and embarrassed by the first agent. As a result, she vowed not to do business with the company again. And she said she'd be telling all her friends.
The contact center agent could have prevented these negative responses if she had been better prepared.
How to Avoid Misunderstandings
Here are three things you can do to help prevent misunderstandings caused by language gaps.
Prepare Your Agents
Your agents shouldn't be caught off-guard by a language barrier. There's a good chance your agents will take an occasional call from someone whose primary language isn't English:

86% of contact centers serve non-native English speakers.
21% of the U.S. population speaks a language other than English at home.


Share this data with your agents. Identify some of the common languages spoken by your customers. Let them know those calls are coming.
Provide Resources
Agents need help when they encounter a language barrier. Make sure you give them the resources they need to avoid misunderstandings.
You can start right away by identifying agents who speak various languages. This can work well in a pinch, though an agent who speaks a particular language may not always be available or possess the technical skills needed to interpret well.
An intermediate solution is to give agents access to phone interpretation services. This is a three-way call between the agent, the customer, and a qualified interpreter.
Train Your Agents
Agent training can tie this all together. The training should focus on three things:
Recognizing situations where a language barrier exists.
Acting to serve the customer in their preferred language.
Empathizing with the customer so they don't feel demeaned or belittled.
It's almost inevitable that your agents will experience a language barrier with a customer. Helping them to be prepared is the best way to ensure there aren't any costly misunderstandings.
Jeff Toister is the author of Service Failure: The Real Reasons Employees Struggle with Customer Service and What You Can Do About It. Jeff is a customer service expert with more than 20 years of experience serving customers at the highest level. Today, Jeff is President of Toister Performance Solutions, Inc., a consulting firm that helps companies improve customer service. He has worked with companies big and small from Fortune 500 firms to government agencies, and even small businesses like his local plumbing company. His innovative solutions have helped clients improve customer satisfaction, sales, and efficiency. We're pleased to have Jeff as a Voiance contributor. You can follow him on Twitter or read his blog here.
Check out Jeff's webinar on the three causes of service failure to learn more: