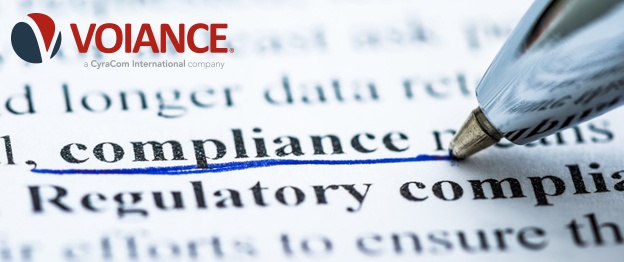 Service providers are legally obligated to protect their clients' data. This extends to choosing which language services provider that they use, since interpreters participate in conversations that reveal sensitive information such as names, address, dates-of-birth, credit card numbers, and PINs.
Voiance takes our responsibility to safeguard this data seriously. We designed our large-scale, US-based contact center model to benefit our clients, promoting compliance through:

PCI-Compliant, ISO-Certified Facilities
Our secure contact centers operate with constant physical and electronic surveillance. We believe secure facilities provide valuable client assurance of data privacy and reduced liability. Voiance clients can visit and audit interpreter contact centers to verify consistency.
These centers are also certified for PCI compliance and audited under the ISO 9001:2008 standard for Quality Management Systems. We also hold an ISO certification for Translation Services (17100:2015) and comply with ISO Guidelines for Community Interpreting (13611:2014).
Rigorous Interpreter Hiring, Training, and Monitoring
Before taking calls for Voiance, we assess our interpreters' language skills, ensuring they possess the bilingual fluency needed to work as a professional interpreter. Once hired, our interpreters complete 120 hours of standardized, in-person training, including written and oral exams on the skills and ethics needed to provide quality interpretation. In comparison to competitors, we are able to hold classroom training at our contact centers, which results in in-depth, hands-on training and quality feedback from professional trainers and coaches.
After training, each interpreter receives regular quality monitoring to ensure clear, consistent interpretation. Unlike competitors that rely primarily on at-home models, our centers staff supervisors sit in raised stations to oversee teams of 18 interpreters on average, ready to:
Offer real-time assistance
Provide side-by-side coaching
Monitor for compliance
Complete call quality reviews at a target rate of 12 times per month

Fast Interpreter Connections for Increased Efficiency
Long wait times lower customer service scores, so it is essential to measure the total time spent to reach the service, enter account and language information and then wait for an interpreter to come on the line. Our workforce management team schedules interpreters to meet demand and assists in achieving fast connection times day or night.
These reduced connection times may shorten each non-English call by up to a minute, saving you time and money. For a contact center using 5,000 minutes per month of phone interpretation, it may eliminate 100 hours annually of time spent waiting for interpreters* – a full two-and-a-half weeks of agent time. And, unlike competitors, you only pay for the minutes you use, and you can pay the same unified price for all spoken languages, 24/7/365.
*(5,000min/month at 10 mins/call = 500 calls/month x 12 months = 6,000 calls/year = 6,000 mins saved/60 mins/hour = 100 hours saved)