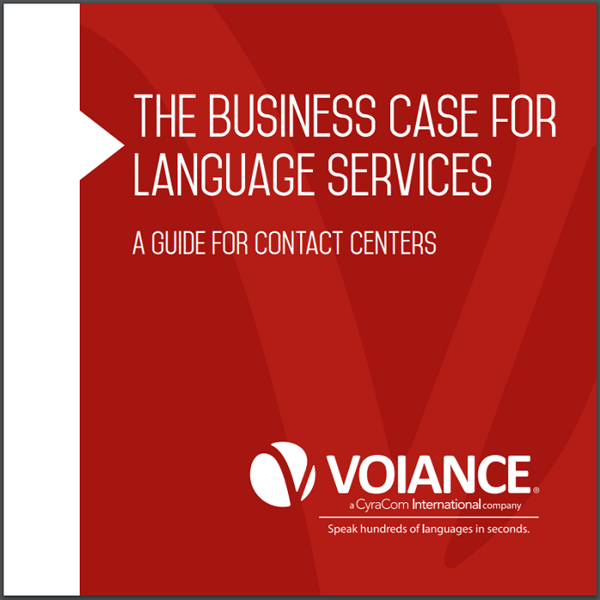 Contact center leadership considering professional interpretation and translation services sometimes ask us whether the investment is worthwhile. We created our E-book, The Business Case for Language Services, to address these concerns. Here are three reasons we believe quality multilingual support pays for itself:
Download the full E-book here:
1. Changing US Demographics Point to Increased Non-English Call Volumes
69% of contact center leaders expect non-English call volume to increase over the next five years, making language support a competitive differentiator.
US demographics support this assessment:
One in five Americans prefer a language other than English
30 million US residents speak English "less than very well" and may not be able to complete a service call in English
More immigrants arrive annually from Asia than Latin America – supporting Spanish is no longer enough
2. Language Services Positively Impact Customer Satisfaction
According to ICMI, a majority of contact center leaders agree that supporting a customer's native language increases customer satisfaction. This key factor impacts retention, revenue, and other important metrics.
The positive effects on customer satisfaction take many forms. Over 400 contact center leaders told ICMI that multilingual support:
Improves satisfaction with customer support (72% of those surveyed agreed)
Impact customers that prefer a language other than English positively (70%)
Increases loyalty to the brand (58%)
3. Agent Experience May Also Benefit From Multilingual Support
66% of call center agents become frustrated when a language barrier keeps them from helping their customer. And 62% worry that, without an interpreter, the customer may miss needed information.
A quality language services program can give your staff the tools to overcome these obstacles. 90% of contact center leaders told ICMI that introducing phone interpretation improved or maintained agent productivity in key metrics like:
First Call Resolution
Average Handle Time
Transfers/Escalations
Call Quality
Want to learn more about the business benefits of qualified, professional interpretation and translation solutions - and why Voiance is the right choice? Download our E-book: