Improving their agents' work experience is a goal for many contact center leaders heading into 2018.
Customer Contact Week, a "global online community and research hub of more than 140,000 customer contact members" recently published a report on Contact Center Priorities for 2018. The piece surveyed contact center leaders nationwide and learned that leadership is focused on improving the call-taking experience for their front-line agents. One essential component: making the systems agents rely on easier to use.
Agent Satisfaction Drives Productivity, Revenue, and Turnover
A Gallup study entitled State of the American Workplace found that the 25% of companies with the highest level of employee engagement have "significantly higher productivity, customer ratings, profitability and less turnover and absenteeism than companies in the bottom 25%." Management consultants the Hay Group report that engaged employees "generate revenue growth at a rate 2.5 times higher than companies with lower marks."
Empowering agents with effective, easy-to-use tools can mean the difference between frustrated, disengaged front-line staff and a team able and willing to do their jobs with excellence.
Quality Multilingual Support Empowers Agents to Succeed
Few agent tools are more essential for success than the ability to communicate with customers in a language they understand. With 65 million US residents speaking a language other than English at home, agents need access to multilingual support to succeed on critical contact center metrics like:
Average Handle Time
Non-English calls will take longer than their English equivalents. But a trained, certified professional interpreter may be able to minimize AHT by clearly and accurately conveying the agent's message to the caller and ensuring that the caller truly understands the answer to their question prior to hanging up. Calls to Voiance Language Services reach employee interpreters with 120 hours of training -- three times the industry average.
First Call Resolution
Successfully solving a customer's problems or making a sale sometimes depends on developing a relationship – making sure they know that you understand their situation and building up trust through empathy. These dynamics are harder to cultivate with a language barrier in the way, so high-quality multilingual support may mean the difference between a happy customer business and one who walks away due to confusion, mistrust, or misunderstanding.
Customer Satisfaction
The International Customer Management Institute (ICMI) surveyed hundreds of contact center leaders and found a general consensus that language services improved the overall customer experience. These leaders also reported that about half of non-English-speaking callers call in expecting service to be available in their native language. Providing quality multilingual support gives P&C carriers the opportunity to meet these customers' expectations while surprising and delighting the other 50% of callers who didn't expect their language to be supported. Voiance supports over 200 languages, with an average connection time of 15 seconds.
Maximize your Multilingual Support ROI with a Partner Committed to Quality
Voiance empowers your agents to succeed in caring for non-English speaking customers with:
A simplified call-in process designed to connect your agents to an interpreter in fewer steps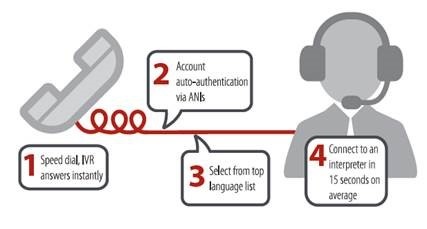 Thousands of employee interpreters, located in our secure facilities, using state-of-the-art equipment, scheduled by our workforce management team to ensure interpreters are available when you need them
Qualified interpreters with 120 hours of in-depth, in-person classroom training and regular quality monitoring to confirm accuracy and efficiency
Rapid access to quality interpreters through Voiance will improve your staff's experience handling non-English calls and help them hit critical metrics, enhancing the overall agent experience.
Want to learn more about partnering with Voiance for quality multilingual support? Email info@voiance.com or give us a call at 1-844 727-6739.
Need more information on improving employee engagement? Watch our webinar with experience expert Jeff Toister here: